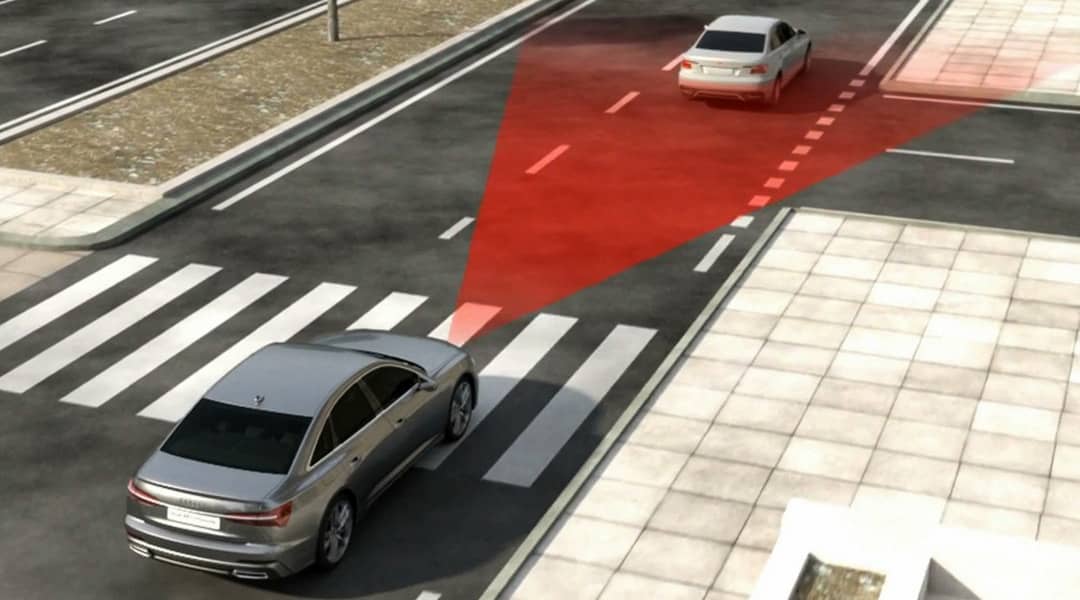 Audi Pre-Sense is an advanced technology package that includes driver assists to improve safety. It utilizes a front-facing camera near the rear-view mirror, as well as front and rear radar sensors to detect surrounding traffic. The system activates to help avoid an accident and to mitigate damage if a collision is imminent. If you opt for Audi Pre-Sense in a new Audi, you'll have peace of mind no matter what type of road conditions you encounter while driving around the Portsmouth area. The knowledgeable staff at Audi Stratham will be happy to walk you through the details.
Audi Safety Technology Features
So, what is Audi Pre Sense, exactly? It's an Audi safety technology system that can activate hazard lights and apply braking when a collision is detected. Side windows and the sunroof will be automatically closed and the front seat belts will tighten to protect drivers and passengers. Other features include:
Audi active lane assist: This feature not only warns the driver when the vehicle is about to leave the lane, but can help steer to keep the vehicle inside the lane.
Audi AI traffic jam pilot: Do you hate driving in stop and go traffic? If so, you're like most Nashua drivers. This feature will take over the stop-and-go driving for you when activated.
Audi pre sense front / Audi pre sense city: Audi pre sense front detects potential collision dangers in front of the vehicle, while Audi pre sense city is designed for busy city streets.
Collision avoidance assist: This feature kicks in when the vehicle needs to drive around something to avoid a collision instead of braking.
Turn assist: This Audi safety technology feature monitors oncoming traffic when the vehicle is making a left-turn, and will apply braking and/or steer the vehicle into a safe lane to avoid a collision.
Adaptive cruise control with Stop&Go function: This enhanced cruise control system will adjust speed as needed, depending on surrounding traffic and other factors.
Hold assist: When this Audi safety technology feature is engaged, the driver doesn't need to keep her foot on the brake to prevent the car from rolling away.
Additionally, Audi Pre-Sense can also distribute a curb warning and activate multi-collision brake assist. The system also measures the speed and severity of a collision detected and steers away while braking. These actions reduce the chances of a front and rear collision.
What Audi Models Have Audi Pre-Sense?
Audi Pre-Sense comes standard with models like theAudi A3and Audi A6. Most Audi models do have Audi Pre-Sense, and the ones that don't can have it added as a technology update. If you'd like us to walk you through the Audi model lineup, feel free to contact us at your convenience!
Learn More About Audi Pre-Sense at Audi Stratham
Now that you know what Audi Pre Sense is, come to Audi Stratham and test drive one of our new vehicles. Our helpful staff can tell you all about Audi Pre Sense and other Audi safety technology features. Make sure to check out our entire inventory of new vehicles. You can also apply for financing. We're conveniently located in Stratham, so stop by today!