Audi Stratham is a proud supporter of In Control Crash Prevention Training and keeping our drivers safe on the road!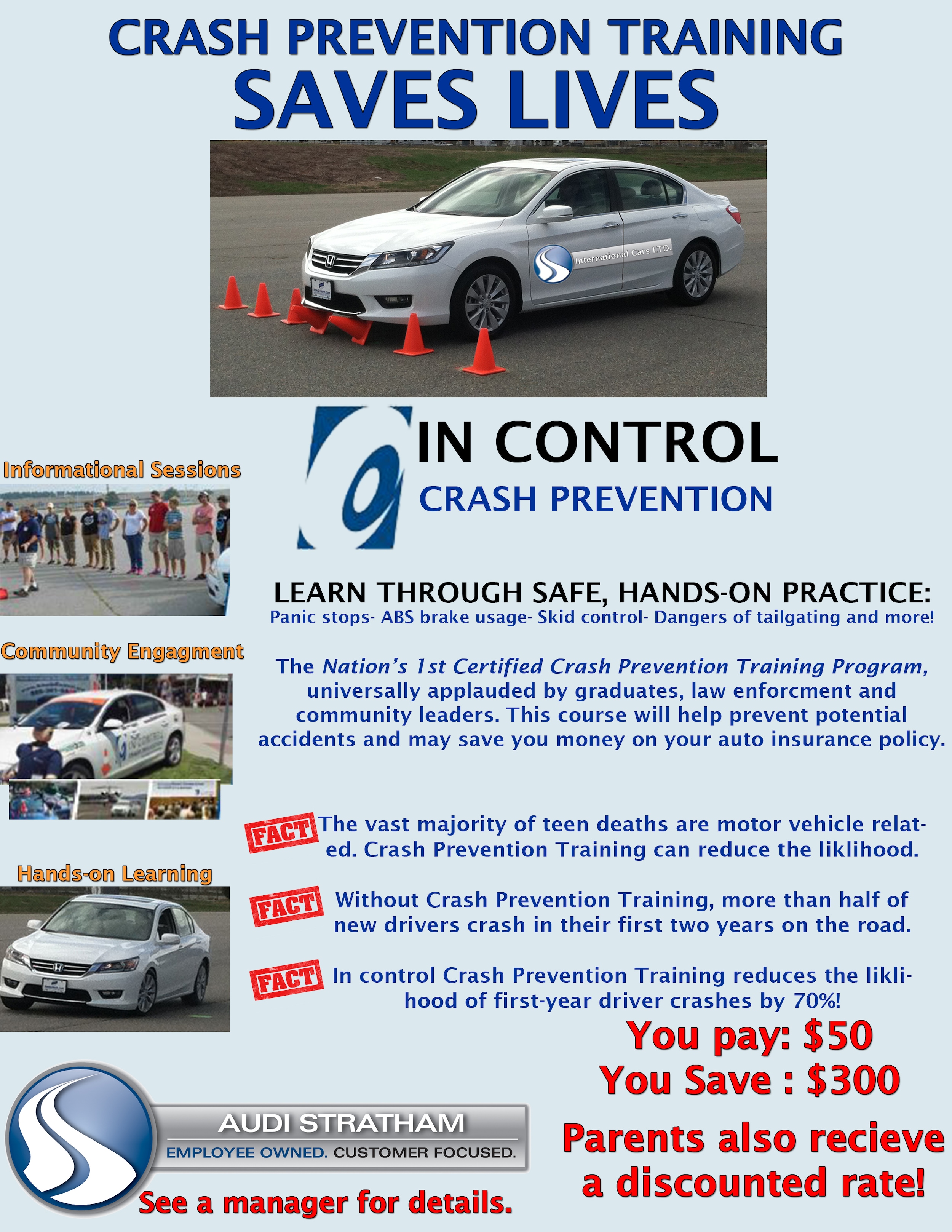 Thank you for leasing or purchasing your new vehicle from us.  I'm sure you will be happy with your vehicle for many years to come.
Now, I have a favor to ask of you, actually two favors.  The first is one where your help is essential to us.  As part of our philosophy we have pledged to be a good corporate citizen in all of the communities in which we do business.  Since we are in the business of vehicles it only made sense for us to look at that area to see where we could contribute.  We have been looking at some issues for years now and two things have surfaced;
In the first two years of driving, new drivers have a greater than 50% chance of being involved in a reportable accident, that is an accident resulting in significant property damage, injury or death.  In fact, traffic accidents are the leading cause of teen death by a wide margin.  In graphic terms, choose any 100 new drivers at random and more than 50 of them will be involved in a serious accident in the first two years of driving. 

 A program developed in Vermont and practiced here has shown that a single half day hands-on training class on a closed course at highway speeds reduces that statistic by nearly a factor of 4.  In other words, with that those same randomly selected new drivers we would have only 12 or 13 accidents in the first two years of driving.  We think it's a great program.
We have partnered with the not for profit driver training organization, In Control Crash Prevention, and a private funding source to be able to offer this course to new drivers for $50.  The course is normally $350. 
Here's the catch, and here's where you come in.  We don't know who or where the new drivers are, so, for the next two years from your transaction date you may identify a new driver and present them with a certificate that will enable them to take the course for $50.  The rules are simple; you have two years to identify the new driver and give them the certificate below.  The driver must be in their first two years of driving; that's were we can make the greatest impact.  We need you to help us prevent accidents and potentially save young lives. 
You may ask why we ask the student or their family to foot the bill for $50; we have found that if the student or their family has no stake in the training they are far more likely not to attend.
Now for that second favor; let us know how your experience was with your latest transaction.  The only way we are going to get better is if you talk to us and you know we love to hear from you.
Thank you,
Marshall Jespersen
Dealer Principal